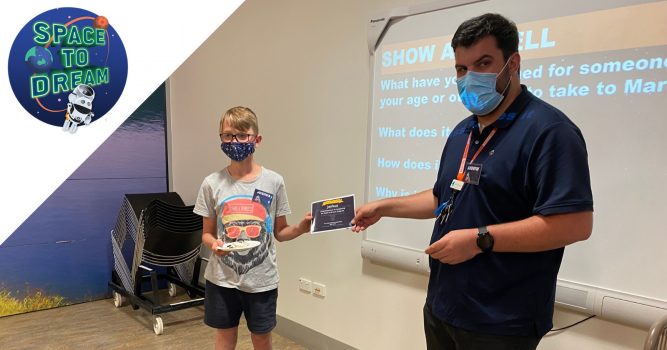 The Commissioner's Space to Dream Travelling Exhibition was exhibited at The Riddoch Arts and Cultural Centre from January through to April this year. With installations planned for metro and regional libraries across South Australia, the exhibition features the top rated 3D and 2D designs from South Australian students who completed the Commissioner's Space to Dream Challenge in 2021.
Space to Dream introduces children to design thinking by challenging them to design a toy or gadget for someone their age who is moving to Mars using either 2D (pen and paper) or free 3D (online) design tools provided by Challenge Partners Makers Empire.
Inspired by the designs featured in the exhibition, Mount Gambier Library staff decided to take the opportunity one step further by offering their members an in-house 3D printing and design program that ran alongside the exhibition. The program featured a booklet that acted as a guide to the eight local families with children under 13 years of age who registered to attend the 3D design sessions presented over five weeks.
Kelly Lynch, the Children's and Youth Services Coordinator at Mount Gambier Library spoke with us about the program and the Space to Dream exhibition.
"The Mount Gambier Library 'Space to Dream' Program was popular from the moment bookings opened. Community members commented on the uniqueness of the program and that 3D printing is very exciting for their children."
Through their participation in the Library's Space to Dream design program children had the chance to bring their ideas to life using 3D printing software and modelling clay set up at the library. It also meant they could take their designs home as a memento of their creativity and ingenuity.
"Children were given a booklet so they could keep a record of their learning development and a place to keep their ideas in one place and refer back to. The children seemed to enjoy the hands on making and sensory engagement."
Taking inspiration from the exhibition, Kelly adapted the Space to Dream challenge to fit within Mount Gambier Library's resources including free access to an in-house 3D printer to deliver participants designs on the spot.
"Viewing the exhibition proved essential to gaining an understanding of the program, sparking curiosity and teaching participants how to approach the consecutive weeks for themselves."
Children see themselves as a generation of change. By developing their problem-solving skills early using design thinking, we ensure they have the tools they'll need to help solve the world's most pressing problems. Seeing designs from their peers across South Australia inspired the Mount Gambier children to think about problems they face and how technology can be used to solve them. Children naturally approach problems with creativity and imagination, viewing technology as playing an important and relevant role in their future. They're keen to learn new skills and tackle problems with design thinking that uses modern technology in ways that are fun and different.
"The variety of ideas was no surprise when working with children's imaginations. Children will dream up the most wonderful ideas if given the space and time to do so. But in actual fact what I love about this exhibition most is that we can explain to the children that these wonderful ideas could actually become a future reality or a solution to a future problem."
Inspired by their peers, children who took-up the Commissioner's Space to Dream Challenge through Mount Gambier Library developed skills they'll need to identify problems and come up with solutions to resolve them. Some may see an issue with communicating back home when travelling to Mars, others may see gadgets that keep you hydrated, entertained, well fed, or which can provide some company on a long space journey.
"The best things about the exhibition were the variety of thinking and designs that were showcased. It was also rewarding for the children to see their age group's thoughts and designs respected by adults in this way".
It is important children learn digital skills early. Not only will this enable them to build the confidence they'll need to work with others to help solve many of the world's issues, it will also provide them with the opportunities they'll be seeking to create new businesses and ventures, be part of medical breakthroughs, and to make discoveries that push humanity to places we have never been.
"Teaching young children digital literacy skills is essential for their future as active citizens. Children need to be able to understand the technology they use so they can use it safely and effectively."
"Digital literacy is not just about knowing how to use social media, it is about understanding technology and using it appropriately."






Visit this year's Space to Dream Exhibition when it's presented at a library near you, or visit the Commissioner's Digital Challenge website to find out how your school can get involved.
School Registrations close Friday 8 July (end of Term 2).
Space to Dream Travelling Exhibition details: https://commissionersdigitalchallenge.net.au/exhibition/
For more information about how your library or school can get involved in the Commissioner's Digital Challenge including computational and systems thinking Challenges with loads of extended resources available straight from the website visit: https://commissionersdigitalchallenge.net.au/