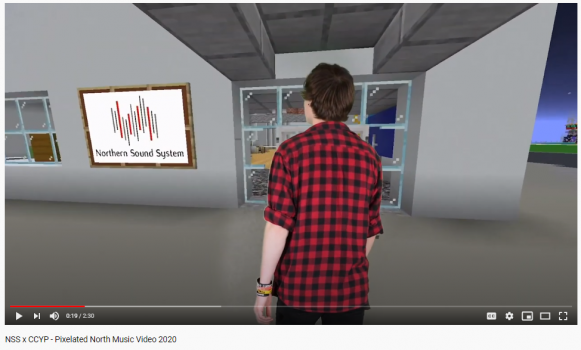 CCYP is excited to announce the launch of Pixelated North – An innovative youth led project that has seen students and volunteers recreate the City of Playford's Northern Sound System (NSS) inside of Minecraft.
Minecraft at its basic level is a video game in which players create and break apart various kinds of blocks in three-dimensional worlds. For example, breaking apart a tree can provide wood blocks for building. The purpose of the game is simply to build and explore (and survive).
Over the last few months 10 students have been working on this innovative project for young people with a passion for the arts, design and digital creative industries. The initiative was developed during COVID-19 as a way to host interactive online experiences during lockdown. As COVID restrictions eased the initiative became a project based learning environment where young people could develop their passions and share ideas together in the same room.
Many of the students involved in Pixelated North have played Minecraft from a young age and say that this team experience has changed their entire perspective on the game. The students describe the activity as 'much more fun together' and making them feel as though they are 'a part of something'.
Northern Sound System promotes engaging artistic development and active pathways for students and youth outside of the typical academic environment. Projects like Pixelated North boost skills relating to future professions such as Game Developers, Gamers, Animators and Youtubers and are invaluable for building confidence in areas that are not a common focus in the school curriculum.
Check out the students reflections on the process of Pixelated North:
The music video created to showcase Northern Sound System inside of Minecraft:
Find out more about Northern Sound System here:
http://www.northernsoundsystem.com.au/about