The work of the Commissioner for Children and Young People, Helen Connolly, is directly informed by listening to the views and opinions of children and young people living in South Australia. Commissioner Connolly has heard that the voices of 8 – 12 year olds are often not heard and in guiding the work of her office devised a project that would enable this group of South Australians to tell her what is most important to them.
The Commissioner launched her Message to the Commissioner ('Tell Helen') Postcard project in 2019, receiving 8,429 postcard responses from all over the state. The responses came from South Australian children aged 8-12 years attending Catholic, Independent, Government, Special, Aboriginal and Torres Strait Islander and Behavioural Schools and represented 239 schools. Their answers to the Commissioner's questions have been subsequently shaped into a report titled "The Things That Matter" launched in National Children's Week 24 October to 1 November, 2020.
The success of the inaugural 'Tell Helen' postcards project cemented it as a sentinel activity that will continue year on year, providing tens of thousands of 8-12 year olds in South Australia with an opportunity to participate, at scale, in a project designed to have their opinions gathered and reported upon over a longitudinal timeframe.
Conducted in Term 4 of each school year, the 2020 Tell Helen Postcards project is now underway. Postcards containing six questions have now been distributed to all primary government and independent schools across South Australia, with assistance sought from teachers to encourage their 8-12 year old students to complete the post cards and return them to the Commissioner by Friday 11 December, 2020 (ie end of Term 4).
Completion of the postcards need take no more than a few minutes. Responses are anonymous. Nothing is asked that would identify any individual student.
The artwork for the post card is available for download via the links below, along with instructions for teachers who may require additional copies and or parents and carers who know children 8 – 12 years of age who they would like to support to participate.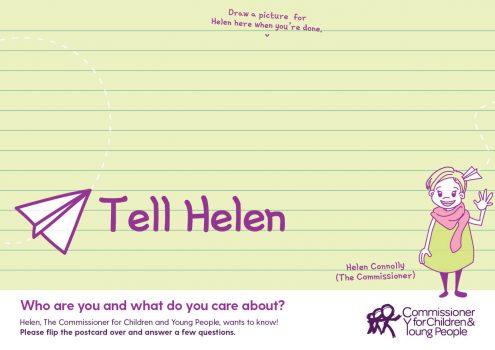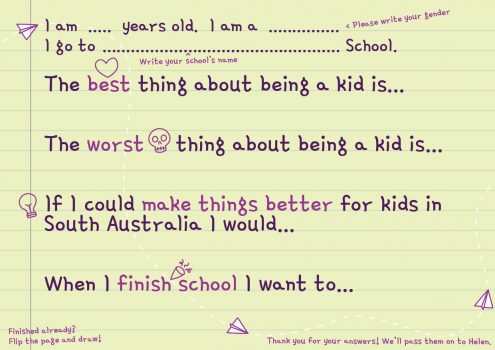 DOWNLOAD 'TELL HELEN' POSTCARD PDF HERE
Click on the links to download:
Tell Helen – Instructions for Teachers, Parents and Carers
Tell Helen – Instructions for Teachers, Parents and Carers (Independent Schools)
Click on the link to download the Tell Helen – School or Community Newsletter e-Notice
Project Aims:
To significantly bolster student agency and civic participation for 8 – 12 year old children.
To encourage children aged 8 – 12 years to identify and share what aspects of their lives are most important to them.
To provide children aged 8 – 12 years with greater awareness of the Commissioner and her work.
To provide children aged 8 – 12 years with an opportunity to have their voices heard by sending a message to the Commissioner who will advocate on their behalf policy and decision makers on matters impacting on them on their behalf.