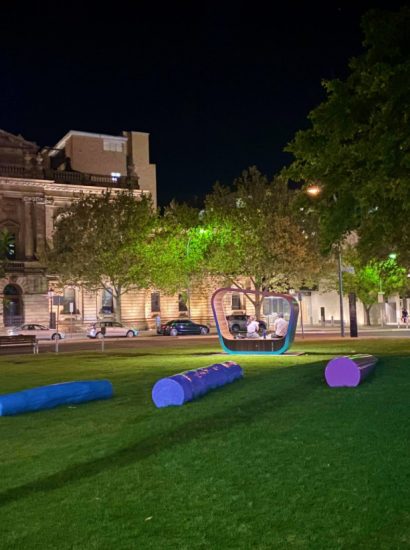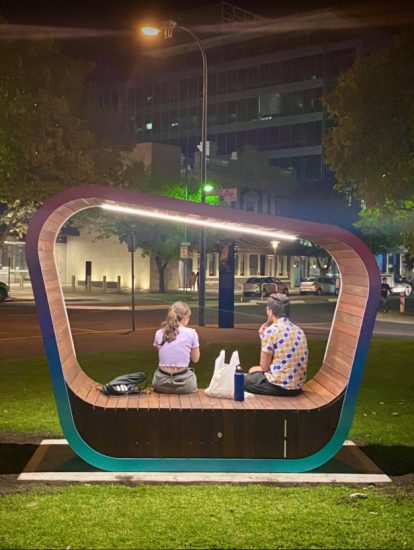 The south west triangle of Victoria Square Tarntanyangga now offers much more than just a spread of lush green grass to welcome young people to the area. Launched on Tuesday 9 March, Adelaide City Council commissioned renowned local artist Dave Court to design a youthful space for Adelaide young people that sent the strong message they were welcome in the city.
Dave's response to the brief has been to use an inviting wave of colour, featuring large cylindrical shapes, transitioning in shape, colour and texture, and an accompanying 'Sedi', the environmentally friendly solar powered smart bench, which apart from shelter also provides additional lighting, WiFi and a phone charging station.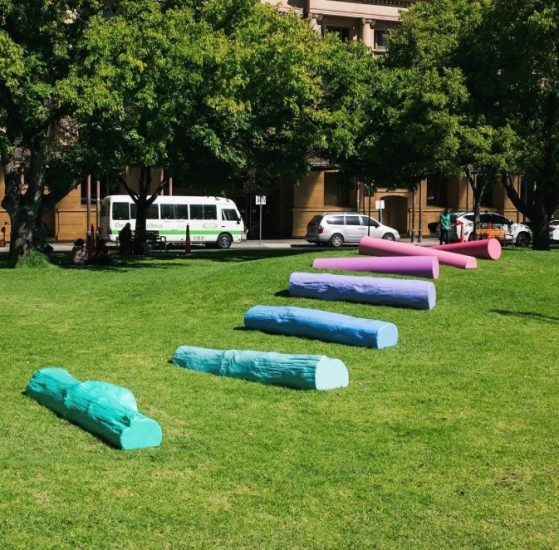 The project was commissioned by Adelaide City Council in response to the Commissioner's 2019 Youthful Adelaide Report which explored how to make Adelaide a more youthful city.
Young people under 24 years make up the largest percentage of people who use the City of Adelaide (25%). The Commissioner spoke with primary and secondary school students, international students, young people in homeless accommodation, and young activists to find out what they would do if they were asked to make Adelaide City a more welcoming place for young people. Their recommendations highlighted the need for more non-commercial spaces in the City where young people felt welcomed and where facilities were designed with their needs in mind, particularly young people aged 13 to 18 years.
'You see less young people in the city because there is less reason to be there. [Where are the] designated places for street art or young people to express themselves.' Young Person – 16
'Employ local artists to create pieces for landscape architecture in new spaces, have shelters for rain and shine, seating on the ground and benches, under 18 events around the city to bring people together with bands and other groups performing in this space.' Young Person – 17
To approach the 'Welcoming Spaces for Young People' project, artist Dave Court also consulted with young people themselves to understand the kind of elements they required in a space that would be welcoming and safe, fostering opportunities for them to socialise in the heart of the City of Adelaide.
Five focus groups (with a total of 50 participants) made up of young people aged 16 – 24 years who attended educational centre in the City of Adelaide met in November and December 2019.
They identified the following features as necessary to young people's enjoyment of public spaces:
Proximity to public toilets, public transport and affordable food and drink options
Phone charging capability
Good WiFi access
Instagram-able public art elements
Man-made structures such as benches and water fountains, alongside natural elements such as trees and grass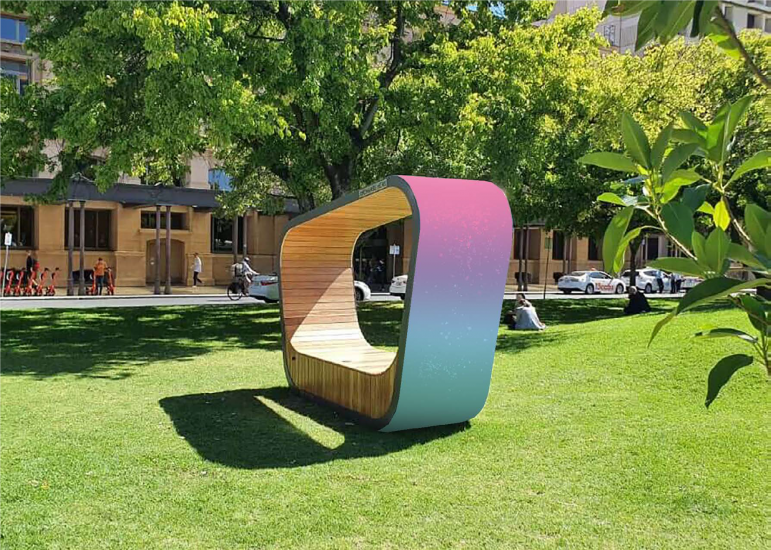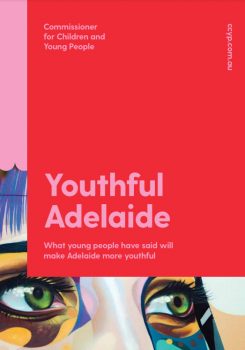 In response to the findings contained in the report that included the need for non-commercial spaces to be created for young people in Adelaide's CBD, artist Dave Court had this to say:
"If you're younger than 13 you are generally at a playground or with parents. If you're over 18 you might go to a pub or club to socialise, or have more expendable income to access commercial spaces. My response to this through the work is thinking about ideas of change, growth and 'in-betweenness', as individuals and as a group of people living in a city. Thinking about different states and stages that we navigate that aren't always clearly delineated – child and adult, dependent and independent, physical and digital, natural and built environments."
This sense of transition is reflected in Dave's use of materials. The logs are made up of four solid timber pieces and three fabricated aluminium pieces. The 'Sedi' smart bench is painted with a matching colour gradient. The final test will be if young people gravitate to the space recognising that has been built for them. Spread the word amongst young people you know so they can come and explore, utilise and enjoy the new central space designed with their input and needs at the forefront.
NAME AND WIN A $100 ADELAIDE CENTRAL MARKET VOUCHER!

City of Adelaide is running a competition to name this new space for young people in Victoria Square Tarntanyangga. Enter and you'll not only be in the running to win a $100 voucher for Adelaide Central Markets but will also have bragging rights to say you've named an artwork in the the heart of the City of Adelaide!
But be quick. Entries close on Friday 9 April, 2021