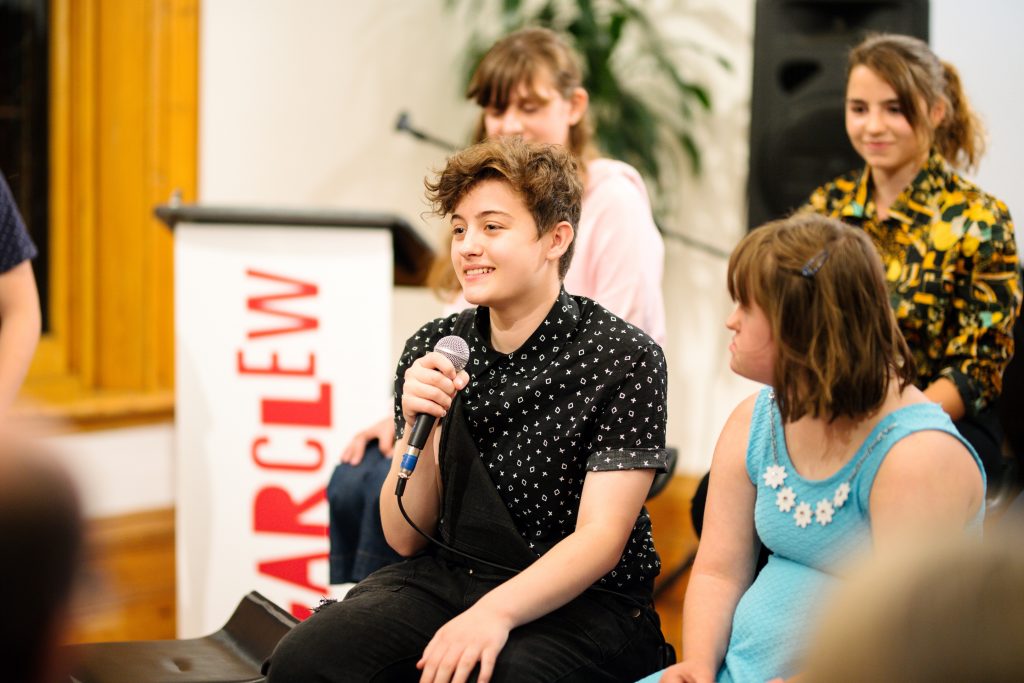 Working in partnership with the South Australian Youth Arts organisation Carclew, Commissioner Helen Connolly this year set out to empower young people to distribute arts funding. The inaugural 'Carclew Futures' project gave ten creatives aged between 12 and 15 full autonomy to distribute $10,000 of public grant funding towards projects by South Australian artists.
The young team were supported by experts in the field over a five month period, but the ultimate decision making was left firmly in their hands, allowing to bring their unique perspective to Arts funding in South Australia. Led by Peer Facilitator, Audrey Mason-Hyde and Lead Facilitator, Pau Mayers, the team of artistically and socially diverse young people investigated questions around how are is made, what it costs, and what it takes to get funding.
Not only did they decide which art projects would ultimately receive funding, but the ten young people also defined their own selection criteria and guiding values in order to lead the discussion and deliberation process. These three main principles were that the art must;
Have an INTENTION – "From raising a smile to raising awareness, the artwork must have a purpose for creation"
The creation and presentation of the art must consider the ENVIRONMENTAL and ETHICAL impact – "It should not be mean or wasteful"
The final work must be as ACCESSIBLE AS POSSIBLE
Carclew Chief Executive, Tricia Walton, has commended the pilot program, saying it was an "extraordinary experience."
"Not only to define their process and priorities in deciding upon the successful candidates, but the transparency of their funding selections via their guiding principles is remarkable, and a testament to the young group," Said Ms Walton.
At the project graduation, Commissioner Helen Connolly asked the newly-skilled young team of arts administrators to reflect on their experiences over the 5 month mentorship. They emphasised "how amazing it feels when you're doing something you are passionate about."
Being 'outside their comfort zone" and "finding the courage to try new things along the way" were core learnings among the group. Despite some participants being "a little confused about the budgeting side of things at first", or "why the hierarchy of the group was the way it was", they said they later "saw how this organisational structure worked well" and learnt how to be more confident, "speak up when they are a little unsure," and take more calculated risks.
Commissioner Connolly said that "the Carclew Futures funding has been a superb opportunity for our young people to demonstrate they can do anything we ask of them if given the right support and resources. The team of ten worked so well together to review the applications they received and to ensure the criteria they had set was met by the artists who were selected."
Of the 17 total applicants, two works which more than meet the above criteria were selected to receive an equal $5,000 share of the available grant.
14 year old Charlee Watt, from Port Lincoln, will create a large portable backdrop for live youth events and indigenous gatherings, inspired by the theme "Sea and Sun" and reflecting the local Barngala cultural heritage.
"Being a young person myself, the Carclew Futures funding program has been great to work with. I am working with people my own age, positioning and talking about the project from one young person to another," said Ms Watt.
Also receiving $5,000 in funding will be Elizabeth Vale visual artist, Chad Spencer. Chad will paint a mural inspired by the stunning rural surrounds on an existing hayshed. Positioned along the Mt Compass to Goolwa Road, the mural will be the first of an art trail across a series of haysheds in the state.