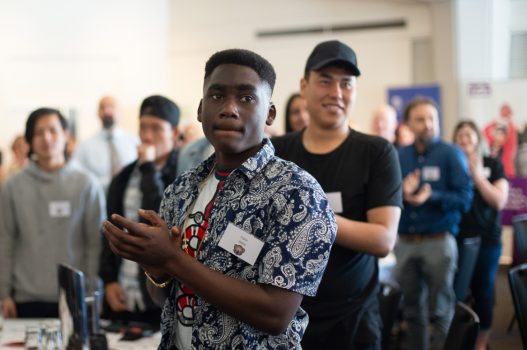 On Friday 22 January, approximately 120 young people from migrant and refugee backgrounds gathered together to celebrate the contribution they make to the South Australian community.
As participants in the Leading for our Future Youth Symposium – jointly presented by Commissioner for Children and Young People, Helen Connolly, and the Australian Migrant Resource Centre, the young people took advantage of the opportunity to watch performances, participate in discussions and join in workshops held throughout the day.
Launched by Assistant Minister to the Premier, The Hon Jing Lee MLC, the overall aim of the Symposium was to hear directly from young people from refugee and migrant backgrounds about the experiences they've had accessing employment pathways. It was also an opportunity to gather their ideas around how they think these pathways could be improved, as well as raise awareness amongst government, organisations and the broader community for tapping into their individual and collective talent.
The day began with an interactive Welcome to Country from cultural ambassador Major "Moogy" Sumner and the Talkinjeri Performance Group. Major Sumner instructed the young people on how to perform the emu and whale dance, paving the way for an interactive day where cultural diversity was collectively celebrated.
Throughout the symposium young people shared their ideas on how educators, employers and decision makers can best realise the strengths and talents of young people from refugee and migrant backgrounds. Creative activities were designed to help young people share their stories as well as their dreams and visions for the future through the use of art, music, photography and discussion.
Performances celebrating the cultural diversity of young people in attendance included Latino dancers, Burundi dancer Muhoza Beni Poppin, and members of the Chin Youth Choir.
The Youth Symposium saw participants gain access to a breadth of networking opportunities. They were able to connect with education and employment services and hear from a range of leaders in the field.
A panel of guest speakers representing various government, industry and education stakeholders included Mr Adrian Phillips (Dept of Innovation and Skills), Ms Hilary Ashworth (Australian Apprenticeship Providers Network), Mr Tony Gavros (Representative of Industry), Ms Katy Doleman (University of Adelaide), Ben Sharp (Food Industry Training Group).
Isaac Hannam, Ackim Mulumba, Elizabeth Aguilera, and Reedah Zaffar made up a panel of young people who shared inspirational stories about the achievements of young migrant and refugee South Australians.
The Young Migrant Achiever of the Year Awards were followed by a series of roundtable discussions inviting young people to design an advertising campaign to show employers in particular, how they could tap into the talents of young migrants and refugees.
A report summarising some of the ideas forthcoming from the roundtable discussions and highlighting some of the challenges and barriers faced by South Australia's young migrants and refugees will be prepared. It will include a number of key recommendations for the attention of employers, educators, community organisations and government.
To find our more information about AMRC: https://amrc.org.au/
To read the 2018 'Leading for our Future: Youth Symposium Report': https://amrc.org.au/wp-content/uploads/2019/02/AMRC-and-Commissioner-for-Children-and-Young-People-SA-Youth-Symposium-Report-Final-PDF.pdf