Skye (aged 10 year) from Cedar College is the winner of the Advertiser's Chill Colouring In Competition, designed to help raise awareness of the Commissioner's annual Student Voice Postcards initiative for SA primary school children aged 8–12 years. The initiative is the Commissioner's way of ensuring she hears from children in this age-group, whose views and opinions she feels are under-represented in comparison to other children and young people living in SA.
Skye (centre) with her classmates and teacher (Jeremy) for whom she won 30 passes to visit Adelaide Zoo for sharing why she thinks it is so important for children her age to tell the Commissioner what matters to them most, and for her wonderful colouring in!
Skye's colouring in really appealed to the Commissioner, who particularly liked her choice of colours and attention to detail. Combined with her thoughtful written response to the question of why she feels it's important for the Commissioner to hear from kids her age, put Skye ahead of all other entrants.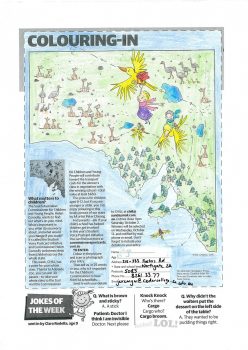 "It is important to hear children's voices because they can feel
alone, forgotten and sometimes sad. Children are the future
and are equal to adults."
Skye (10, Cedar College)
When asked how it feels to win and take the entire class to the Zoo, Skye said:
"I think it's amazing that I won and that I could bring my whole class. I feel very lucky. My class has been very excited. I got thanked a lot! I'm excited to see the giraffe because giraffes are my favourite animal."
Skye's teacher Jeremy is supporting the class to participate in the Commissioner's Student Voice Postcard initiative for the first time this year, and had this to say about his students' involvement:
"It's extremely important that we hear the voices of children and young people. Children are quite perceptive and, at times, very insightful. I think adults often forget what it was like to be a child and tend to make decisions for children without really considering the children themselves. Opening up conversations that give a voice to children is important as it shows that we value their input, and we (as adults) are willing to grow and improve and be lifelong learners, which in the process demonstrates a level of humility to the children. We should never be too proud to take advice from a 10-year-old. I find that young people know when something feels off, but don't always have the means to articulate their thoughts. Solutions born of children have a refreshing honesty and fairness to them. It is important to have adults who are willing to listen and to help flesh out the ideas without taking over. This is doubly beneficial as that child learns the ability to articulate themselves better from the adult, and the adult receives refreshing, honest, and generally non-biased input."
The Commissioner's Student Voice Postcard initiative is rolled out annually to primary school aged children attending public, Catholic and Independent schools across South Australia. Now in its third year the engagement initiative has so far drawn over 24,000 postcard responses, which the Commissioner has turned into two reports she has directed to policy and decision makers – The Things That Matter (2019) and The Things That Matter 2 (2020). The reports ensure that the wants and needs of children in this age group can be considered when services are being designed for them.
If you are a primary school teacher or educator in SA, there's still plenty of time for you to support your students to participate this year. Postcards can be downloaded from the link below. They need to be completed and returned to the Commissioner by the end of Term 4, 2021.
Commissioner's Student Voice Postcards (commissionerspostcards.com.au)