Commissioner for Children and Young People Helen Connolly will host an 'Urban life online briefing' as part of the global Conscious Cities Festival 2020, providing South Australia's urban design professionals with an opportunity to gain an insight into research findings from her Youthful Adelaide project that examined what young South Australians say makes a city youthful.
Young People under 24 years of age make up the largest percentage of people who use the City of Adelaide yet they cannot see enough of themselves within it. They describe a youthful city as somewhere which has at its core a 'young people friendly feel', 'comfortable and welcoming', 'a place where risk taking is accepted and where innovation is encouraged'. F
or Adelaide to successfully assert its future role in Australia's economic and cultural life and to enable it to take its place on the global stage, we must listen and incorporate the ideas and opinions of our young people. That way we can be confident our state's capital will appeal to our young people, encouraging them to build their lives here, share their youthfulness and vitality in ways we haven't yet thought of, contributing to building a future that is both vibrant and relevant.
Commissioner Connolly will discuss the feedback, research and data she received directly from South Australian young people and help attendees to see Adelaide through their eyes. Commissioner Connolly's briefing forms part of the global Conscious Cities Festival which runs from Sunday 18 October through to Friday 23rd October featuring a series of online and live events exploring what it means 'to be' Adelaide, now and into the future.
The Conscious Cities Festival is hosted by Cities for Conscious Design, a worldwide organisation committed to ensuring urban designers are making "places, spaces and objects that have an awareness of, and responsibility towards people. The concept emerged out of the Conscious Cities Manifesto which advocates for the integration of technology and Science-Informed Design in order to create a healthier, more inclusive, and democratic built environment".
Adelaide has unique opportunities to utilise its geography in the interests of young people. The leaders, designers and creators of today have a responsibility to foster positive and vibrant futures for the next generation.
The Festival runs simultaneously across the network of Conscious Cities which include Mumbai, London, Accra, Monterey, Barcelona, Milan, New York, Toronto, Chicago, Lahore, and Adelaide. Adelaide will focus on bringing the voice of young people to conversations about the identity, mood, mindsets and meanings of the place, in a festival of questions and conversations about what it means 'to be' Adelaide, now and into the future.
Conscious Adelaide is presented by a network of contributors woven together by Urban Mind Studio, with the Commissioner for Children and Young People South Australia, the NeuroTech Institute, Youth Inc, the City of Adelaide, Global Shapers Adelaide Hub, Festivals Adelaide, MOD, Imprints Booksellers and the Australian Institute of Landscape Architects South Australia.
Download a copy of the Commissioner's Youthful Adelaide report which summarises the findings of her research with South Australian young people: https://www.ccyp.com.au/wp-content/uploads/2019/09/CCYP-Youthful-Adelaide-Report-V5-Web.pdf
Event Details: Urban life online briefing – seeing Adelaide through the eyes of young people. ONLINE: Friday 23 October 2020 1 – 3pm ACDT Location: Online –
TICKETS: https://www.eventbrite.com.au/e/117881399439 Between October 18 – 24, 2020, the global Centre for Conscious Design (CCD) presents Conscious Cities Festival 2020: To Shape and be Shaped.
For more events and information visit: https://theccd.org/event/urban-life-online-briefing-seeing-adelaide-through-the-eyes-of-young-people/
The Conscious Cities Zine can be downloaded here: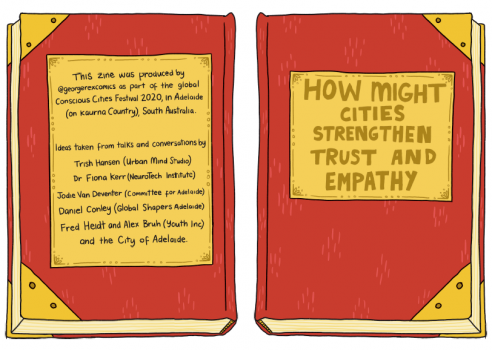 This Zine by Georgia Chatterton captures some of the key points from Conscious Cities Festival 2020 forum How might Adelaide build trust and empathy? in the Meeting Hall at Adelaide Town Hall