Civics in the City (Pilot) Grant Program
The Commissioner for Children and Young People has partnered with SA Parliament to offer South Australian schools financial assistance toward a student excursion to Adelaide's CBD that includes a visit to Parliament House.
OVERVIEW
Civics and Citizenship education will be brought to life via this opportunity for South Australian school students to visit Parliament House and be taken on a tailored tour designed to meet the age, needs and interests of the student group attending.
The tour was devised by the SA Parliament Education Officer in consultation with the school group leader and includes an opportunity for students to spend time in the upper and lower houses of Parliament where the 47 elected representatives of South Australia's House of Assembly and 22 elected representatives of its Legislative Assembly gather to propose, debate, and pass legislation relevant to all South Australians.
The excursion to Parliament House empowers students through a deeper understanding of how they as individual citizens can play an active role in shaping their own communities. It provides information on how state, local, and federal tiers of government intersect, as well as how South Australia's parliamentary traditions and processes work.
Tours include the opportunity for students to conduct a parliamentary style debate (on non-sitting days) with students encouraged to present on issues that matter to them most.  Short talks by SA Parliament staff who have expert knowledge of parliamentary processes also feature.
Schools are encouraged to use other time in the CBD to book complementary excursions to institutions relevant to civics and citizenship education such as Government House, The Centre of Democracy, Migration Museum and State Library, to name a few.

PROGRAM AIMS
The aim of the Civics Education Grant Program is to improve the understanding of government and citizenship amongst South Australia's children and young people in an engaging way. The program aims to achieve this by encouraging schools in low-SES areas and country SA to take part in out-of-school activities and excursions to the State's capital as part of their civics and citizenship education.
There are likely to be other benefits arising from these visits, including any or all of the following:
broadening the horizons of students who don't often get the chance to visit Adelaide and the CBD
encouraging schools to spend time at a variety of civic and cultural institutions during their visit to the city; and
attracting more young people from the outer suburbs and regions into Adelaide's CBD.
WHAT DOES THE (Pilot) GRANT PROGRAM OFFER?
Based on the distance from SA Parliament, selected schools will be given a grant  funds of between $20 and $120 per student toward the costs of their excursion to Adelaide's CBD that includes a visit to Parliament House.
| | |
| --- | --- |
| Distance from SA Parliament | Travel and Accommodation Grant Funds (per head) |
| Adelaide outer suburbs (over 20km) | $20 |
| Inner regions (over 50km) | $60 |
| Outer regions (over 150km) | $100 |
| Outback (over 500km) | $120 |
WHO CAN APPLY?
Any school situated 20km or more from South Australia's Parliament House in a low-SES area, or with an ICSEA score below 1000 or an Index of Educational Disadvantage between 1 and 4 can apply for grant funds.
HOW DO ELIGIBLE SCHOOLS APPLY?
Applications for 2022 have now closed. Five schools will be selected to receive grant funding and will be notified shortly.
FURTHER ENQUIRIES
Further enquiries can be directed to SA Parliament Education Officer, Natalie Young, on (08) 8237 9386 or via email to natalie.young@parliament.sa.gov.au
Plan Your Civics in the City School Excursion
 Learning Destinations for School
The venues listed below provide a broad range of opportunities for civics and citizenship learning for school aged children and young people. Much of the information supplied is closely aligned to the national Civics and Citizenship school curriculum.
Most are based in or around Adelaide's central business district, while some offer online learning, or visits to regional locations.
Teachers may wish to combine their excursion with visits to other organisations covering alternate topics, or provide physical or  recreational activities. For ideas visit:  Outreach Education – Step Outside the Classroom
A broad range of organisations offer civics and citizenship, and youth leadership opportunities in South Australia. Too numerous to list here, key amongst them are YMCA's Youth Parliament and the State Environment Council.
The Commissioner for Children and Young People has also recently established a Statewide Student Representative Council for students in Years 10, 11 & 12. For information click here.
The following are recommended inclusions for a Civics Education Excursion to  Adelaide's CBD  
Parliament House, Adelaide
Students tour Parliament House with their local Member of Parliament and learn about levels of government and the role of elected representatives in the upper and lower chambers.
Student debate: (on non-sitting days) students participate in a 45-minute Parliamentary style debate in the chamber, complete with props.
Address:      North Terrace, Adelaide
Cost:              FREE
Level:             Years 4-12
Area:              Civics and Citizenship, History
The Centre of Democracy
School visits are self-guided and must be booked in advance. A Teachers' guide provides information on Governance in the Early Colony, Social Movements in SA, a Timeline of Suffrage, and other civics education related exhibits.  Online resources include a 'Democracy Walk' along North Terrace.
Address:                 Institute Building, corner of North Terrace and Kintore Avenue, Adelaide
Learning area:        Civics, history
Cost:                       FREE
South Australia's Government House
Volunteer guides are available to escort school tour groups by appointment.
Address:                 North Terrace, Adelaide
Learning area:        Civics/history
Cost:                       FREE
Adelaide Holocaust Museum and Andrew Steiner Education Centre
Offers a range of programs linked to the curriculum and SACE. The Introduction to the Holocaust is a 100-minute guided program can be tailored to learning needs. The museum educates young people about the Holocaust and highlights the importance of positive citizenship.
Address:             33 Wakefield Street, Adelaide
Level:                  Years 9-12
Learning Area:    Civics/history
Cost:                    $250 per class, $190 equity or country

Legal Services Commission
Offers legal information sessions and fact sheets.
Address:       Based in Adelaide, will come to a venue of your choice.
Area:             Legal matters, such as sexual consent and filming laws
Cost:             Free

Migration Museum
The Making of Democracy (with the Centre of Democracy): looks at the key players in establishing democracy in Australia, including an understanding of the impact of colonisation on First Nations.
Experiences of colonisation: program focuses on the lives of children both pre and post colonisation in South Australia.
Unpacking histories: uses a hands-on approach to learn about 20th and 21st century history of migration
20th and 21st Century Immigration: students are challenged to think critically about past and current immigration policies, Australian identity and multiculturalism in post-Federation Australia.
Guides for visits by people with autism are available upon request (Level: 5, 6)
Address:               82 Kintore Avenue, Adelaide
Learning Area:      Civics and Citizenship, History
Area:                     Civics and Citizenship, History
Cost:                      Admission free. Cost of educational programs vary $5 per student/ $2 equity
Other SA Learning Destinations
Adelaide Gaol
Interactive and structured visits, including team debates and curriculum aligned tours
Address:                     18 Gaol Road, Adelaide
Level:                          Secondary students
Learning Area:            Society and Culture
Cost:                           $6.50 per student (up to 30 students), $75 per tour
Art Gallery of SA
Australian History: Communities – their past present and possible futures.
Address:                North Terrace, Adelaide
Level:                     Year 5
Learning Area:       History
Cost:                      FREE

Museum of Discovery           
A futuristic museum of discovery that offers schools visits and guided tours around their exhibitions.
Address:                North Terrace, Adelaide
Level:                     Ages 15+
Learning Area:       Varies
Cost:                      Free for a self-guided visit, $220 for a guided tour
South Australian Law Courts
Teachers can book self-guided class visits to the Adelaide Magistrates Court and Sir Samuel Way Building. Bookings are made online and provide priority access to courtrooms. Resources are available on the website to assist teachers plan and conduct a self-guide visit.  A School Information Pack is also available which can be used to prepare students for their visit and encourage post-visit discussion.
Address:                     Victoria Square, Adelaide
Learning Area:            Civics and Citizenship
Cost:                            FREE
Regional options
If you can't visit Adelaide, there are also organisations that will visit you and/or provide online information:

Parliament House, Adelaide
Can provide regional visits.
Level:              Years 4-12
Area:               Civics and Citizenship, History
Cost:               FREE

Green Adelaide    
Provides tools and support to students to encourage a youth action approach to sustainability. Students are encouraged to play an active role in decision making, planning and taking action within their school and community.  Supports SACE students looking at local sustainability issues as part of their Research Project.  Also provides opportunities for students to make their voices and opinions known via the Youth Environment Council (years 7-10) and Youth Voice Group.
Where:                   At various sites or at schools
Learning Area:       Civics/STEM
Cost:                      FREE

Legal Services Commission
Can visit organisations, schools or groups. Helps young people to understand the law and how it can affect them. We help young people to know their rights, understand their responsibilities and navigate confidently through the legal system, knowing when and where to ask for help and further advice.
Address:                Based in Adelaide
Learning Area:       Law
Cost:                      FREE
South Australian Law Courts
Some suburban and regional Magistrates Courts are also able to accommodate school visits.
Teachers should contact the Court Registrar directly to arrange a visit.
Learning Area:       Civics and Citizenship
Cost:                      FREE
State Library of SA
Offers a Digital Resource for learners to explore their own community aligned to the curriculum
Address:                 North Terrace, Adelaide
Level:                     Years 3-6
Learning Area:       Civics & citizenship (and others)
Cost:                       FREE
Frequently Asked Questions
Q1: Is it possible for schools that are ineligible for the rebate to visit SA Parliament?
A: Yes! All schools are encouraged to visit the South Australian Parliament for a free and informative visit.
Q2: Can private or Catholic schools apply for the rebate?
A: Yes, all schools in low SES/ICSEA areas are encouraged to apply if they are situated more than 20km from SA Parliament House.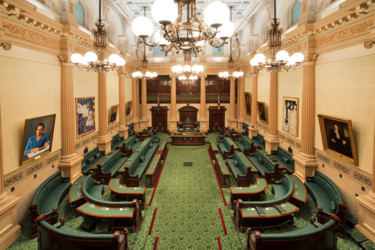 Image: House of Assembly, SA Parliament House
"All South Australian school students should have an opportunity to visit SA Parliament House no matter where they live. Visiting Parliament and other civic institutions helps young people find out about South Australia's history and the uniquely Australian democratic system of which they are a part. Nothing could more effective in helping young people understand what it means to be an active citizen in their own community."
Commissioner Helen Connolly
Share Your Experience!
The Commissioner would love to hear from school students about their Civics in the City excursion experience.
Send your feedback to commissionercyp@sa.gov.au